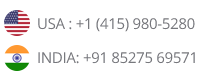 World Class IT Infrastructure
Beautiful & Hi-Tech Office
Our service delivery center is located in Delhi NCR surrounded by all major IT Vendors and Support companies. We are neighbor to big companies like Fujitsu, IBM, TCS, Tech Mahindra (British Telecom).
8 Mbps High Speed Internet
Dedicated leased line connectivity for Hi-Speed Internet Access. Minimum 4 Mbps speed is ensured on all devices.
24x7 Power Supply/Backup
Our development center is equipped with Advanced Online UPS system and Generator for throughout power supply in case of any electricity outage.
Robust Systems
PC running on AMD Processors/Intel i3 processors with 1-2 GB RAM. We use TFT 15'' and 21'' Monitors. We work on Unix & Windows OS, and have our own HP dedicated servers for maintaing internal repository and source code backups.









Loading Images