Top 10 must have features for any E-Commerce website
Gone are the days when the term 'shopping' was tagged with women only. Now-a-days, even men get excited when the word shopping is used? Why? It's all because of the e-commerce website. When people can simply make purchase with just few clicks and easy payment, no one could come to hate shopping. If you are planning to start an e-commerce website then you should visit Ecommerce Web Development Company for that. But, before you launch the website, you should check your website for the key features. Here are some of the key features that you might want to check your website for.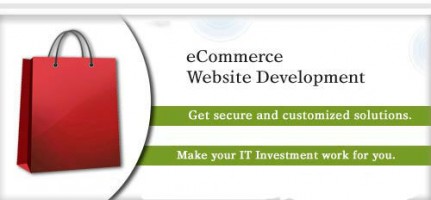 Show the reviews of the product:
Positive reviews from other people can attract many other customers. So, you should make sure that there is a facility in your website through which your buyers can leave some reviews about a certain product.
Zoom in and zoom out picture:
Users are bound to have a good look at the picture of the product before they order it. So, you should allow a feature with which they can zoom in and zoom out of the picture.
Responsive web design:
You might have heard a lot about responsive web design and how it is 'in the fashion' right now. With this design you can easily view your website from any devices be it laptop, mobile or tablet. The website will be loaded with the same speed and in the same format. So, to get this design you will have to find a company that provides ecommerce web development services in India.
Navigation does not feel like walking through the maze:
The website must be user friendly and easy to navigate. If the user can compare navigating through your website as going through maze then your users might never return to the website again.
Showcasing featured or discounted product:
You ecommerce website should have a sector in it where you can display some of your featured or discounted product. The users can easily view the product in one glance and navigate to that product. This way your featured or discounted products will be bought by many users.
Subscription and newsletter:
Be sure to add this feature in your ecommerce website because with this feature you can get in contact with your customers and give them information about new products or deals.

Launch an ecommerce mobile app:
Mobile has become of the most used devices. Almost everyone has mobile these days and since internet are readily available on mobile these days, many people like to browse the internet through their mobile. So, it might do you some good if you launch an ecommerce mobile app that is connected with your ecommerce website. For that you will have to get in contact with an ecommerce web development company.
Calculates tax automatically:
Taxes vary according to the countries. Since, you cannot remember the tax rates for all the countries; you should have a feature in your website that calculates the tax automatically according to the country.
Calculates shipping charge:
Shipping costs are different for different countries. So, you should have a feature in your website through which your users can easily calculate what the shipping charge would be for their country.
Online support chat:
If your customer know that they can ask for your help online without having to send long emails or wait for long time then they are bound to be really impressed.
With the proper ecommerce web development in India you can incorporate all these features in your ecommerce website.